OneCad Pty Ltd
3D Structural Steel Detailing
What We Do
OneCad produces structural steel, and concrete tilt panel shop detail drawings for the Australian and international construction markets. We are a small business that can offer you a highly personalized service in the preparation of the structural shop drawings for your next construction project.

Over the years, we have prepared drawings for a variety of projects of varying sizes:

Commercial buildings
If you have a project and are looking for a structural steel detailer, please feel free to contact us.
We would be happy to discuss your project with you and give you an obligation free quotation.
See the About Us page to see what we can offer, and the Samples page for some examples of our work.
We can offer you much more than just shop drawings.
Why should you choose OneCad as your structural steel detailer?
It's simple. When it comes to structural detailing, it's all about the end product.
It doesn't matter whether you use the latest technology or the newest software, if you don't know how to use those tools to their full potential, then the end result will always be less than perfect. In an industry that works to the millimetre, near enough is just not good enough...
We have been using 3D modelling software for 21 years (since 1997).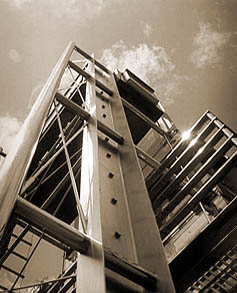 We use the StruCAD Structural Steel Detailing package as a tool to aid in the creation of our shop drawings. Like any tool, it is only as good as the user who wields it.
We are extremely proud of our reputation for producing clear and concise shop drawings and spend an extensive amount of time checking our models and drawings to ensure that they are completely accurate.
We can offer you a complete package that is delivered in a prompt, professional manner using advanced 3D modelling, to provide you with exceptional accuracy and workability from the end product – the drawings.
Over the years, we have tweaked and streamlined our drawing presentation to suit the many requests of our clients. As a result, we believe we can offer you a superior product, tailored to suit your business.
If you have any special requirements, we are more than happy to accommodate them in order to fit more completely into your overall workflow.

Please Contact us if you wish to discuss your project.
See the Samples page for some realife examples of our work.